June 16, 2018
10-11:30am
in the Market
Fiber Fundamentals: Knit and Purl || $45*
Participants: Adults 18 and up
Enrollment: Maximum of 5 students
Register by: Wednesday, June 13
Instructor: Adele

Always wanted to learn to knit? Already knit but need a refresher course? Adele from Fiberfads! will teach you the fundamentals of knitting: casting on, knitting, purling, and binding off. With these 4 skills in your knitting bag, you're on your way to becoming the knitter you've always imagined you could be!
*All materials are included in this fee and are yours to take home: yarn, knitting needles, tapestry needle, a pocket guide to knitting, and a beginner's knitting pattern.
*Payment due upon registration. Emergency cancellation will result in a credit towards another Fiberfads! class.

Next Date: TBA
10am-noon
drop-in
in the Market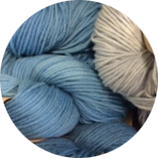 The Fiber Circle || FREE
Hostess: Adele
Once a month, come spend a morning of fiber crafting and friendship at the Fiber Circle at Miller Farms Market. Bring your favorite fiber craft to work on while sipping a hot drink, enjoying some light refreshments, and visiting with other fiber enthusiasts.
*no registration required
*please no children or pets
Fall 2018
9am-noon
in the Market
Dyeing Yarn With Kitchen Produce || $70*
Participants: Adults
Enrollment: Maximum of 5 students
Register by: TBD
Instructor: Adele

In this class, you'll learn about the chemistry and process of mordanting wool fiber prior to dyeing with natural dyes so that the colors have "staying power". Next, you'll participate in making an onion skin dye bath and a red cabbage dye bath. Finally, with prepared skeins provided, you'll dye one skein of yarn in each dye bath. Wait till you see the colors emerge! You'll take home a folder with the information discussed in class as well as the 2 skeins of your hand dyed yarn.
Materials to bring:
One pair of rubber gloves
Apron
Two 1-gallon sized ziplock bags; 1 sandwich bag
*Payment due upon registration.
*Emergency cancellation will result in a credit towards another Fiberfads! class.
Registration will open late summer.